A fantastic New Forest destination for cyclists of all abilities

Castleman's Corkscrew: a walk along an old New Forest railway line near Brockenhurst
Distance: 5 miles, Time: Allow 3 hours, Map: OS Explorer OL22 – New Forest
There are many appealing areas of heathland and pine woodland in the south west corner of the New Forest and running through them is the Castleman's Corkscrew.
This was the name given to one of Hampshire's oldest railway lines which ran from Brockenhurst to Ringwood and on to Wimborne. Completed in 1847 the line was promoted by Wimborne solicitor, Charles Castleman. The 'Corkscrew' referred to the circuitous route the line followed.
A link from Ringwood to Christchurch and Bournemouth was built but as the latter grew in popularity a direct line from Brockenhurst to Bournemouth was completed in 1888. Use of the old Castleman route declined, but it continued for almost a further 100 years and was not closed until the mid 1960s as part of the infamous 'Beeching Cuts'.
Today long stretches of the track bed have been retained as walking and cycling routes and The Old Station Tea Rooms at Holmsley are very popular.
Walks in this area follow a particularly attractive section of the line across heathland to the south west of Brockenhurst. It also explores woodlands on each side of the route at Set Thorns Inclosure and Hincheslea Wood, and in the other direction up towards Burley.
Article extract taken from the Bournemouth Echo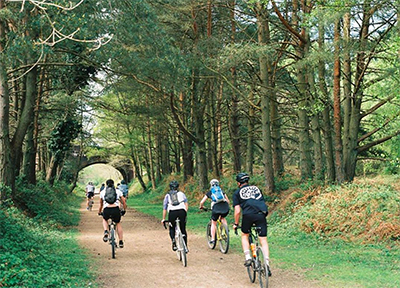 The New Forest Explorers Guide
Castleman's Corkscrew also featuring – Turf Hill, Holmsley Bog, Slap Bottom and Shappen Hill.
This 3¼ mile walk (a little over 5 kilometres) features much relatively level ground with few significant gradients. The route starts in the Burley, Forestry Commission car park, located on Wilverley Road, opposite Burley Primary School, around 1/3 mile (0.5 kilometres) from Burley village centre.
Much of the route is over open heathland characterised by a fine mix of heather; gorse; bracken; invading birch and ancient, once-coppiced hollies. Heathland wildlife hereabouts is of national importance – look out for tiny Dartford warblers; noisy, conspicuous stonechats; small groups of chattering linnets and many other wild birds.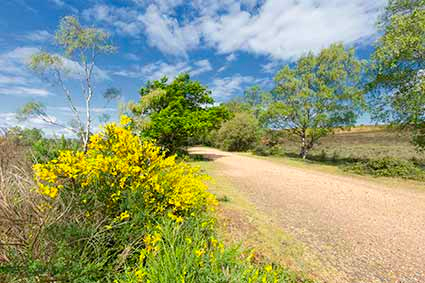 Bike hire in Burley
To book your bike please visit Forest Leisure Cycling.
You can view the Forest Leisure Cycling video below, it features a stop at The Old Station Tea Rooms!